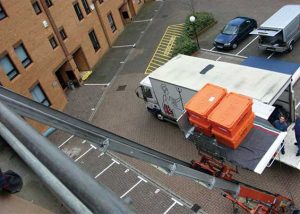 Business removals in Newcastle, Sunderland or Durham will be stress free with Britannia George Bernard Shaw.
Moving business premises can be just as stressful as moving house, if not more, therefore ensure you use a BAR member. As a result saving time and money when you take into account any loss of earnings that may be taken on during a move.
With Britannia George Bernard Shaw, business removals in Newcastle don't have to be stressful.
Moving an office of five staff, or five hundred can all be managed by a dedicated move manager. Therefore leaving you to get on with your day to day duties.
Once we understand the needs of your business removal in Newcastle, we will plan your office relocation. We plan down to the last detail and also provide the resources to make it possible with no hassle.
We will organise a site visit to determine the access points of the building. While on site we make sure we ask all the important questions about Health and Safety etc.  Hence making sure we have the knowledge to anticipate any set backs to the timescale and remove those obstacles.
Contact us today to find out about what we can do for your business removals in Newcastle.